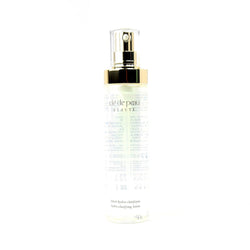 Cle De Peau Hydro Clarifying Lotion /5.7 oz.
Lotion that helps protect skin against dryness and provides a luxurious hydrating treatment that inspires a radiant complexion. Removes dull surface cells and refines skin with a comfortable refreshing sensation during your balancing step. For normal to oily skin types.
Key Benefits
Formulated with Illuminating Complex EX with precious silk and pearl elements, to help moisturize and retexturize skin while reducing the appearance of damage caused by environmental stress. Helps prevent the stressful effect of dryness on skin. Promotes a purified refreshed complexion and eliminates dullness and shine that can create a look of fatigue. Renews the appearance of skin and inspires a flawless porcelain glow. Provides a toning effect that tightens skin. Removes sebum and comfortably refines skin and promotes a fresh, healthier-looking complexion. Provides positive effects on skin texture, firmness, and translucence while reducing the visibility of pores. Provides a refreshing texture and gives skin a feeling of dewy smoothness. Refines and rebalances skin to create the ideal environment for additional beauty treatment.
How to Use
Use every morning and evening after cleansing skin. Press the pump three times and saturate a cotton pad with lotion. Smooth gently over face.